The screwed cantilever - the cost-effective solution
Screwed cantilevers are in many respects identical to the clipped-in cantilever: Heinz Racking Systems manufactures these in the same steel quality and with the same high quality of production.
The only difference is the connection between the cantilever and the column. The special part used in the clipped-in cantilever is replaced by a connecting plate with holes, which is commonly used in steel constructions. The cantilever arm is then rigidly connected to the column with two or four screws.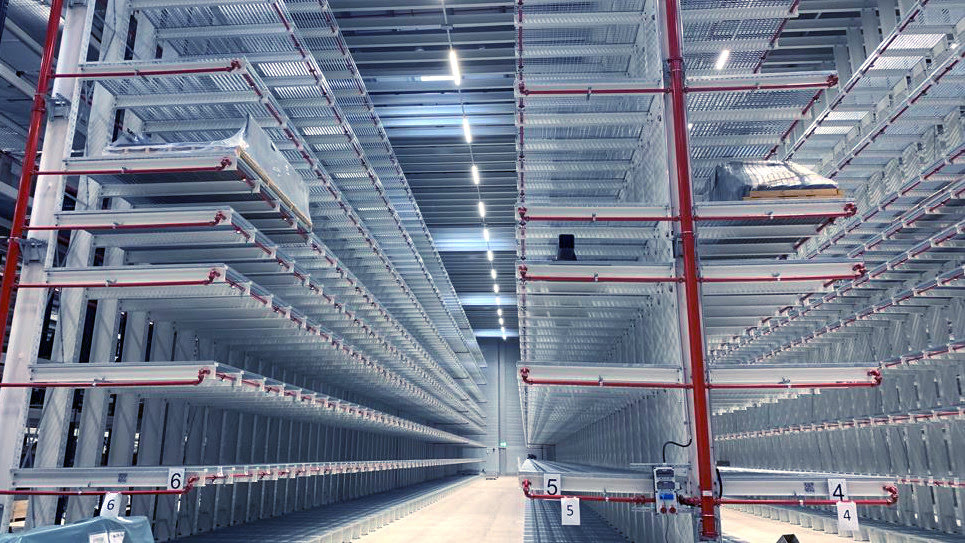 Useful applications
The screwed cantilever presents itself as a cost-effective solution in case the advantages of the clipped-in cantilever are not necessarily needed:
In the situation where cantilever arms are interconnected (e.g. by gratings or arm bridges), quick adjustment is not possible anyway.
If the warehouse is operated with an automatic forklift, contact with the racks is excluded by the automatic system itself. In this case, the high resistance of the clipped-in cantilever against impact/damage has no additional value.
Moreover, budget constraints sometimes result in a decision for screwed cantilevers, especially when the higher maintenance costs are overlooked.
Compare the clipped-in cantilever with the screwed cantilever
Clipped-in cantilever
Screwed cantilever
Flexibility
Flexibility
Adjustable at any time quickly and without tools
Just as finely adjustable, but must be individually unscrewed & screwed on.
Stored goods
Stored goods
Quickly adjustable to individual needs
Adjustable to individual needs
Damage
Damage
Clipped-in cantilevers deflect in 3 directions - greatly minimised risk of damage
Damage to cantilever and column is likely in case of forklift contact.
Durability
Durability
Indestructible thanks to robust, solid IPE steel sections and best rust protection
Maintenance
Maintenance
Mitigated costs thanks to high flexibility, adaptability, and resistance to damage
Higher workload when making adjustments; spare parts needed more often (higher risk of damage)